Welcome to
Back-To-Basics Natural Cleaning!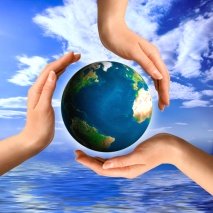 Learn how to
clean it green!

We'll give you
"the basics"
on safe,
chemical-free
natural cleaning!

And you'll
save money, too!
Commercial household products are very big business. Store shelves are filled with hundreds of specialized formulas which promise to solve every imaginable problem, but they are expensive, chemical-based, and needlessly expose our families and our environment to highly dangerous and toxic ingredients.

The ultimate goal of Back-To-Basics Cleaning is to show you how to get the job done safer, faster, and cheaper!


Click the links on the left side of the page,
and you'll discover natural cleaning formulas
and recipes for every room in your house!

Please visit our forum on the "Your Tips" page and share your best household solutions!
Write about your formulas and tips! Ask questions! This is a place for you to post product reviews, or seek help or advice on particular problems from other experts in the field - your green cleaning peers! Your comments will be posted for all to see.
Please stay tuned as our site grows and blossoms!
We hope you'll bookmark this page, bring your beverage of choice, and visit whenever you take a break from vacuuming! There will always be something new to learn!
Get the latest news, tips, and advice on natural cleaning and green living at the Back to Basics blog, where you'll find special and timely topics on living a greener, healthier life. Clean it green!
Learn how to clean your home using safe, non-toxic, chemical-free natural house cleaning tools.
Recipes and tips for using baking soda for natural home cleaning.
White vinegar is a safe, non-toxic antibacterial household cleaner.
Safe, non-toxic bathroom cleaning; make your own non-toxic bathroom cleanser
Safe, natural floor cleaning formulas using simple ingredients.
Natural carpet cleaning formulas to make carpet freshener and pet stain removers from safe, simple ingredients.
Enhance your home environment by using safe, non-toxic air freshener alternatives.
Learn about natural laundry detergent, and how to avoid chemicals in the laundry room.
Green living facts and tips. Learn about how you can make basic changes for a greener life.
A natural cleaning reference guide detailing the simple ingredients recommended by Back-To-Basics-Cleaning.com.
Add your natural cleaning tips to our back-to-basics-cleaning forum.
Use the Natural Cleaning Contact form for Back-To-Basics Cleaning. Suggest a topic, share your own thoughts or ask questions.
Tell a friend about the great natural cleaning tips at Back to Basics Cleaning!
Back to Basics recommends these sites for info on green living and natural products.