Vinegar Basics
The next time you are in the condiment aisle, pick up an inexpensive bottle of white vinegar. This versatile ingredient can be safely used anywhere in your home; it kills bacteria and it's amazing at cutting through soap residue. Mix up the formula below, and you will have another great alternative to store-bought chemical cleaning products.
Please see the Natural Cleaning Reference Guide for more detailed information on the ingredients mentioned on these pages.
Basic Vinegar Clean and Shine
Antibacterial Formula
Use this solution as you would any other store-bought antibacterial cleaner. It's safe and saves a bundle!
1 cup white vinegar
1 cup water
Five drops of liquid soap
Add mixture to a spray bottle and use for cleaning kitchen and bathroom surfaces such as appliances, mirrors, stainless steel sinks, laminate counter tops and tile. You can add a tablespoon of coarse salt directly on your sponge to act as an abrasive when using this formula on kitchen and bathroom sink fixtures. Vinegar can be irritating to the skin, so please use gloves. Important note about special counter surfaces such as granite: please do not use this mixture on stone surfaces, as acids can etch and damage the stone. Follow your particular manufacturer's cleaning instructions.

The old common household wisdom has always been that cleaning windows with a vinegar and water solution and newspapers is the best way to get them to shine. The new wisdom is to use your Basic Vinegar Clean and Shine and substitute a microfiber cloth for the newspapers. This is great for mirrors, too.
More Vinegar Basics
The following suggestions have been around for quite a while. You may already be familiar with some of the tips on this list. Please don't limit yourself to just these particular uses.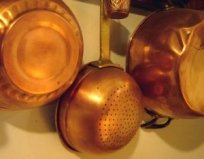 Vinegar is great for cleaning copper! Liberally sprinkle salt on the copper surface and make a paste with white vinegar. This method works like magic with lemon juice as well!


Soaking your shower head with vinegar and water is a great way to remove mineral deposits. Spray the shower head and then cover with a small plastic bag. Let it sit for a few hours or overnight.


Add a small amount of vinegar to your sink dishwater when washing greasy pots and pans, and it will help cut the grease.


Clean out mineral deposits in your coffee pot by pouring in 1 cup of white vinegar and 1 cup of water. Follow up with a full carafe of plain water.


Pour a cup of vinegar into the bottom of your dishwasher when you are ready to run it through a full cycle. The vinegar will deodorize, sanitize and make the dishes and glasses sparkle.


Spray vinegar full strength on tile and grout. Let sit for a few minutes, then use a scrub brush to brighten grout. Vinegar will help reduce mildew in the bathroom.


---
Click here


to find many more
valuable vinegar cleaning tips for you to use!



Visit our Essential Oil page to find out how to
boost your cleaning formulas!
---
The Usual Precautions
Always keep cleaning solutions out of the reach of children and pets, including the safe formulas you mix yourself. Even upset tummies are not worth the risk!



Label and store these mixtures as carefully as you would any other cleaning mixture. Although they are made from safe ingredients, they should be treated with caution.



Always test your mixture on small, hidden areas of all surfaces and carpets to be certain there won't be any damage or discoloration.



Please visit this lovely site on how to make the switch to natural cleaning. There is great information on how to "make a difference" in a very short time!
Make A Difference!
---